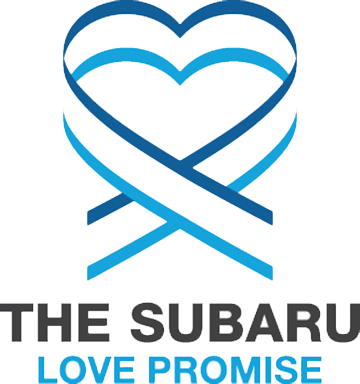 What is the Subaru Love Promise?
Subaru and our retailers believe in making the world a better place and the Subaru Love Promise is our vision of respecting all people. This is our commitment to show love and respect to our customers and to work to make a positive impact in the world.
How is Dick Hannah Subaru dedicated locally to the Love Promise?
Our Love Promise can be seen in various partnerships with local charities and non-profits. We're grateful for the opportunity, not only to be a part of our community, but to serve it as well.
Humane Society's southwest washington
National Arbor Day Foundation
Washington State University Vancouver , Boys and Girls Club of Southwest Washington
The Salvation Army, Vancouver Police Activities League , Lower Columbia CAP's Commodity Program , Washington State School for the Blind , Clark County food bank
Children's Cancer Association , American Red Cross, Muscular Dystrophy Association
Love Promise Stories from Dick Hannah Subaru
Subaru and Dick Hannah Subaru believe in making a positive impact on the communities in which we live and work. We uphold that belief through our Love Promise Community Commitment. Every month, we select inspiring stories from customers and partners from around our area who strive to support our collective commitment and feature them here
Dick Hannah Subaru makes the holidays magical! - Fletcher J
From mid-November through early December Dick Hannah Subaru championed the Make-A-Wish Oregon Toy Drive to support their Holiday Magic campaign. Over three weeks, the team collected a Subaru full of toys for children currently in Randall's and Doernbecher's Children's Hospitals that Make-A-Wish Oregon will deliver during special events at each location. Their efforts to promote, support, and fulfill the need to bring magic to these children and their families who are going through difficult circumstances make them pillars of our community and people that can always be relied upon in challenging (and good) times. Thank you to Kamal, Chris, and the outstanding team at Dick Hannah Subaru for their support this holiday season!
---
Happy Holidays From the Employees At Hannah Subaru - Michael N
For the 5th year in a row, Dick Hannah Subaru has volunteered to provide with The Southwest Washington Chapter of the Salvation Army with new and gently used coats totaling several hundred happy and warm patrons ranging from kids to XXXL. Well over 300 collected in the 5 years we have been doing this, including the most unique and blessed request from one of the Dick Hannah Subaru Managers, Mr. and Mrs. Marty McDonald. At the McDonald wedding, each attendee that RSVP was asked to bring a BRAND NEW adult men's or women's winter coat resulting in 87 brand new donations! Keeping someone warm is one thing, but keeping them warm while putting food in their tummy is something else. This year in addition to coats, Senior staffers Kamal Chaer, Robin Alexander, and Darrell Williams collected a total of $1,760 compiled from every NEW SUBARU SOLD FROM 11/01 to 11/30 and presented a check to Major Michael Nute of the SW Salvation Army Chapter to help provide, food, shelter, job search attire, heating fuel, infant supplies, and so much more. Along with just under 100 new and gently used jackets, Thank you, everyone, who involves themselves in this most wonderful time of the year! You truly are worth the praise.
---
Dick Hannah Subaru Holiday Employee Giving Event - Kamal C
To celebrate the holiday season and kick off the start of the 11th Annual Subaru Share the Love Event, all the employees at Dick Hannah Subaru held a special holiday donation event on Friday, November 9th. All employees of the Subaru store were encouraged to make a personal donation towards their choice of 9 different local charities. The Subaru Sales department held a special sales meeting where every sales person and manager pledged money and then received a shot at a basketball hoop to have the Retailer double their amounts. All in all the Dick Hannah Subaru employees donated a total of $7,151 during this event. In addition to this incredibly generous amount, Dick Hannah Dealership Group is matching every donation dollar for dollar making the total raised by Dick Hannah Subaru employees to $14,302!!!
---
Dick Hannah Subaru Loves Pets!!! - Jane M
All of us at the Oregon Humane Society would like to thank all the Portland Subaru retailers for raising and donating $56,900 to us during the Subaru Loves Pets Event! This tremendous donation will help hundreds of pets and families right here in Oregon! The Oregon Humane Society celebrated its 150 year anniversary this year and we could not do it without the strong support of Subaru and the local Subaru retailers. We would especially like to thank the team at Dick Hannah Subaru in Vancouver, WA for their generous donation of $9,925. Thank you from all the Pets!!!
---
Subaru Loves To Care 2018 - Tori H
The team at Dick Hannah Subaru had been a joy to partner with throughout the month of June, so not only were we excited that they were our first delivery this year as part of the Subaru Loves to Care campaign, we were also thrilled to be working with Randall Children's Hospital again. Randall provides state-of-the-art care for local children and even held an extra special place for Jason Hirata from Subaru who we had the pleasure to meet as well. Jason had been there just days prior for one of his children who had undergone a major surgery. The surgery was a success, and Jason could not wait to interact with some of the staff that made it possible. Along with Jason, Kamal Chaer and Ronda Pfeifer from Dick Hannah Subaru, Susan Korte from LLS OSWIM, and I gathered all of the blankets and care cards and made our way into the hospital. We were greeted by McKenzie Fletcher and Becca Hokinson, two staff members at Randall, and were able to learn about the breakthroughs they are making at even a National level. Randall Children's Hospital is the only Level 1 pediatric trauma center in the entire Northwest, earning that status in the last year from the American College of Surgeons! While discussing even more amazing steps they are taking, we handed over the 80 cozy blankets and care cards and expressed our utmost admiration for not only their time that day but for their commitment to helping families just like Jason's. We thank Dick Hannah Subaru and their dedicated staff in making this possible.
---
Where Love Meets Hope! - hannah s
Every person should have the chance to live a healthy life full of love and adventure. Since Subaru is committed to giving this chance to as many people as possible, we here at Dick Hannah Subaru, have partnered with The Leukemia and Lymphoma Society (LLS) to donate and deliver blankets and message of hope cards to community members fighting cancer. Every three minutes one person in the United States is diagnosed with a blood cancer. Together, Subaru and LLS wanted to spread hope, warmth and love to those bravely fighting cancer and their supporters. This past June we had our amazing and generous customers write messages of hope, on what we call Hope Cards. We then delivered them, along with 10 arts and crafts kits and 80 blankets to children going through treatment at Randall Children's hospital in Portland, Oregon.
---
Hannah Subaru Loves Learning - K C
Walnut Grove Elementary
---
Hannah Subaru Supports Education - k c
Truman Elementary School
---
Hannah Subaru Supports Education - k c
Being able to support education in our local schools and provide educators with the tools they need to inspire students to learn has always been something Dick Hannah Dealerships is passionate about. When it came time for our annual Tools for Schools Drive, we partnered with Subaru Loves Learning and the American Association for the Advancement of Science. The AAAS is an organization that supports education in the sciences and with their partnership, we were able to donate 250 award winning science books to Harry S Truman Elementary. Given our past partnerships we know that teachers and students alike will enjoy them for years to come. For the fourth consecutive year, we collected school supply donations and donated $100 for every new car sold during the month of August. This year we presented Theresa David-Turner, the principal at Harry S Truman Elementary School, with hundreds of different schools supplies, as well as a check for $8,400! We look forward to next year, when we can help another one of our deserving local schools grow the minds of the next generation.
---
Dick Hannah Subaru Loves the Earth and Butterflies - ERIN G
Please take some time and join us for our Subaru Loves the Earth initiative! During the month of April, we are partnering with the National Wildlife Foundation for the Butterfly Heroes Program, which helps raise awareness and education on the declining population of the Monarch butterflies. We will have a butterfly habitat planter at the store to help the Monarchs and other pollinators. Stop in to learn more about the program and the Monarchs, while you are here be sure to pick up some complimentary milkweed seeds to help do your part at home!
---
Hannah Subaru donates to local school - Eleanor
Supporting education is a key initiative for Dick Hannah Dealerships, and for the third straight year, Dick Hannah Subaru has done just that with the Tools for Schools Drive. Collecting donations of school supplies, as well as donating $100 for every new car leased or purchased throughout the month of August; Dick Hannah Subaru was able to present hundreds of donated school supplies along with a check for $8,200 to Karrie Yank, the Principal of the Vancouver School District's Eleanor Roosevelt Elementary School.
---
Subaru Loves Pets - Hannah S
SWWA Humane Society Pet Food Drive.
---
Subaru Love the Earth - KAMAL C
In honor of Subaru Love the Earth Month we at Dick Hannah Subaru invited you to participate in our E-Waste Recycling Event. We take environmental responsibility seriously and believe in leading by example when it comes to green practices and sustainability. That is why when it comes time to dispose of our electronic devices we think that it's important we do so in a safe, environmentally conscious way. This April, you helped us achieve our goal by bringing in your old cell phones, monitors, printers, TVs, and fax machines, to our EcoBox located in our store. We then took your old electronics and packaged and transported them to one of our certified data destruction facilities. There, they were sorted so any reusable parts could be harvested and refurbished. Any remaining materials were then dismantled and recycled properly so that nothing ends up in a land fill. We thank you for your effort in helping us keep the planet clean and move toward a sustainable future.
---
Tools For Schools - Lori W
The team at Dick Hannah Subaru got together and decided to write a check to the school. $100 from each new Subaru sold was donated to the school.
---
Police Activities League of Vancouver, WA - Kimberly K
Hannah Subaru is proud to support the Police Activities League (P.A.L.) as our local charity for the Subaru Share the Love Event. Our customers and employees helped to raise $10,273 for this outstanding organization. Dick Hannah, President of Hannah Auto Group, and his employees proudly presented this donation to P.A.L. Officers and Board Members. The Police Activities League is a non-profit organization that partners with law enforcement agencies to promote positive relationships between law enforcement officers and youth in the community through educational programs and recreational opportunities. PAL believes that it can help reduce the juvenile crime rates in the city of Vancouver by empowering our youth to make responsible life choices.
---
Dick Hannah Subaru Volunteer At The Oregon Food Bank - Jason H
Volunteers from Dick Hannah Subaru supported the Oregon Food Bank in their efforts to feed the hungry residents of Oregon and SW Washington. Chris Foy proudly packs rice at the Oregon Food Bank's Distribution Center.
---